Outstanding CSR of the Year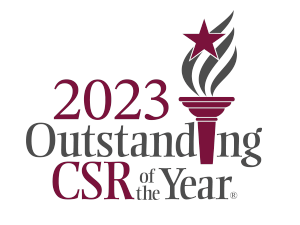 This prestigious award, created in 1991 by the Societies of CISR and CIC recognizes the important role the customer service representative plays in the day-to-day care and service of the customer. The award honors the CSR who demonstrates through dedication and performance, the highest level of personal and professional achievement. The PIA Board of Directors and the Education Committee use a comprehensive process to select Wisconsin's recipient.
The competition is open to any insurance customer service representatives or candidates primarily responsible for customer service regardless of affiliation or professional designation. Candidates interested in participating in the competition may also nominate themselves.
2023 Winner Jennifer DeGeorge, CIC
Congratulations to Jennifer DeGeorge, CIC of Vizance in Hartland, WI! Jennifer proceeds to the national competition and will be recognized for this achievement at Engage 2023 in Lake Geneva.
Previous Recipients
2022 - Tiffanie Courtney, CIC, CISR, CRIS, Madison, WI
2021 - Nicholas Oleniczak, CISR
2020 - Jenna Moehrke, CISR
2019 - Haylie Schmit, CISR Madison, WI
2018 - Stacey Migliano, CISR, Kenosha, WI
2017 - Kathleen Grossen, CIC, CISR, Monticello, WI
2016 - Robyn Henslin, CIC, CISR, Middleton, WI
2015 - Ericka L. Berceau, CISR, Greenfield, WI
2014 - Alissa Rosenow, CISR, New Berlin, WI
2013 - Lindsey Hamielec, CIC, CISR, Madison, WI
2012 - Maggie Tirschman, CIC, CISR, Madison, WI
2011 - Kara Plowman, New Berlin, WI
2010 - Wendy Gerken, CISR, Baraboo, WI
2009 - Angie Aide, CISR, New Berlin, WI
2008 - Christy Hewitt, New Berlin, WI
2007 - Jacqueline Levenske, CIC, New Berlin, WI
2006 - Megan Rafko, New Berlin, WI
2005 - Wendy Matousek, New Berlin, WI
2004 - Cyndi Gustavson, CISR, New Berlin, WI
2003 - Wendy Beck, West Bend, WI
2002 - Kelly Godejohn, CISR, Port Washington, WI
2001 - Cathleen Ferguson, CISR, Port Washington, WI
2000 - Jeanne L. Goehrig, CISR, Watertown, WI
1999 - Kelly Kleist, CIC, CISR, ACSR, Madison, WI
1998 - Paige E. Buege, CISR, Oconto Falls, WI
1997 - Beatrice A. Kallman, CIC, CPIW, Madison, WI
1995 - Joanne F. Ganske, CIC, CISR, Cross Plains, WI