2023 Award Winners Announced at Engage 2023
During the Awards Lunch at Engage 2023, several prestigious awards were presented.
Ryan Butzke, CIC, CISR of Northbrook Insurance Associates, Inc. was named the Ron Von Haden Agent of the Year and also received the Stony Steinbach Achievement Award.
Agent of the Year is a high honor awarded to an agent who exhibits extraordinary dedication to their community, the insurance industry, independent agents, and the PIA.
The Stony Steinbach Achievement Award is given by the PIA Board of Directors to a fellow member who serves the organization and its members with energy, efficiency, and enthusiasm.
Ryan Butzke served as President of PIA from 2021-2022 and has continued to serve as a director on the board. His leadership was instrumental in the development of the PIA PAC Clay Shoot, the rebranding of the Young Professionals Insurance Network, and PIA's database transition. Since 2001, Ryan has worked as an agent at Northbrook Insurance Associates, Inc. in Slinger, WI, the agency his father began back in 1978. Outside of work, Ryan spends his time outdoors hunting, golfing, and coaching Alpine Ski racing. He is widely known for his diligence to his customers, his commitment to his family, and his unwavering positive attitude.
"I don't think there is any better testimony to how much Ryan has impacted the industry than by him receiving both of these prestigious awards," said Executive Director Pete Hanson. "The dedication that Ryan shows to his clients, the industry, and the PIA is unmatched. It is recognized by all who have the pleasure of knowing him."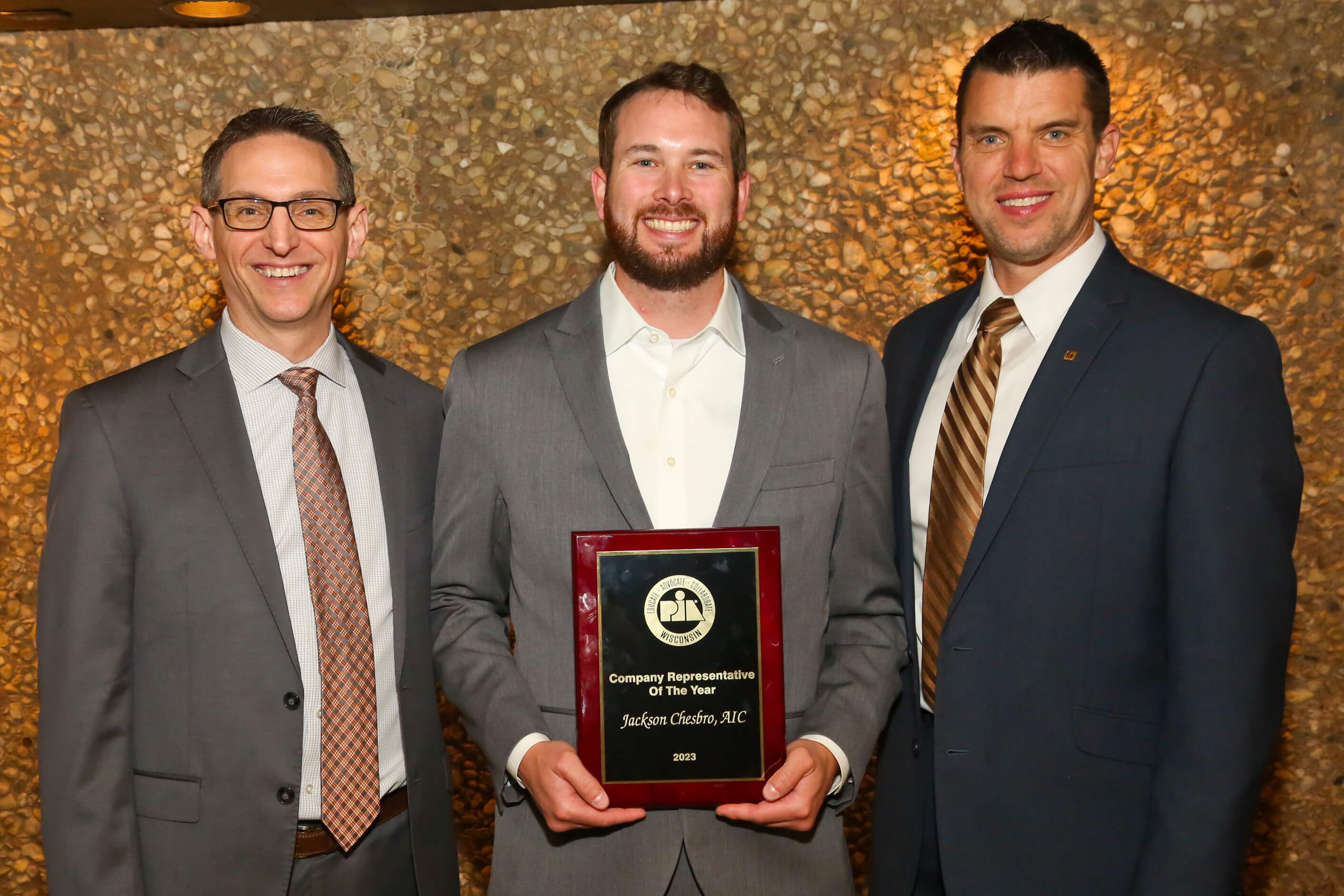 The Company Representative of the Year Award is awarded to a company representative that shows outstanding dedication to the insurance industry and support for PIA member agents. The Company Representative of the Year Award was given to:
Jackson Chesbro, AIC of SECURA Insurance in Neenah, WI
Jackson Chesbro has worked with a variety of companies during his career, and all the while has continued to create long-lasting relationships with the agents he serves. He has established himself as a trusted leader among independent agents and his marketing representative peers. His leadership qualities led him to his role as the President of the 1752 Club, an organization of insurance marketing professionals who work with independent agents to provide high-quality insurance products to Wisconsin consumers. In addition, he is heavily involved with PIA's Young Professionals Insurance Network, an organization dedicated to providing networking and development opportunities for young professionals and promoting the wealth of career opportunities in insurance.